Episode 42: Doom Patrol: From the Wreckage / Doom Patrol TV Show Season 1
Paul and Eric read the first seven issues of the comic and catch up on season 1 of the show
15 days ago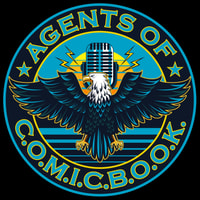 This week we cover:
Doom Patrol #19-25 (4:44)
Doom Patrol Show - Season 1 (51:10)
Paul and Eric are starting a four part series digging into the Doom Patrol! We're catching up in preparation for season two. This week we're reading the first seven issues of the comic by Grant Morrison and Richard Case. We'll get to see the origins of each character, and get an early look at the comic book versions of Dorothy and Jack as well. At the end we'll also briefly share out thoughts on season one of the TV show! Join us next week as we start season two.
Every week our show reads and reviews comic book arcs and then reviews a comic book shows or comic book movie based on that same character. At the end we will rank them all! We cover DC Comics, Marvel comics, and everything in between. Our comic book podcast will have a rotating topic.
Follow us on Twitter Support us on Patreon or send us mail at agentsofcomicbook@gmail.com
Find out more at http://agentsofcomicbook.com