Episode 33: X-23: Innocence Lost / X-Men Evolution, "X23"
Paul and Eric read both Laura Kinney's comic AND television debuts
a year ago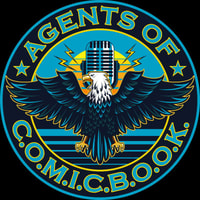 This week we cover: - X:23: Innocence Lost #1-6 (4:30) - X:Men Evolution, S3E11, "X23" (36:00)
Time for some Wolverine! This week Eric and Paul are getting into some comics staring X-23, Laura Kinney. She is a character who actually originated in the cartoon, X-Men: Evolution before making her comic book debut (in "X:23 Innocence Lost" by Craig Kyle, Chris Yost, and Billy Tan), so we will be covering her appearances in both!
We'll be talking about Laura again next week when we cover the follow-up comic, "Target X" and her live-action debut in LOGAN!
Every week our show reads and reviews comic book arcs and then reviews a comic book shows or comic book movie based on that same character. At the end we will rank them all! We cover DC Comics, Marvel comics, and everything in between. Our comic book podcast will have a rotating topic.
Follow us on Twitter Support us on Patreon or send us mail at agentsofcomicbook@gmail.com
Find out more at http://agentsofcomicbook.com